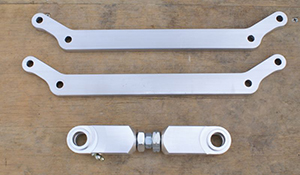 ATVPT-ATVProductTests Copyrights 2011
Lowering Kits Facts:
• Improved Stability
• Lowers the center
of gravity without diminishing the ride quality or the suspension travel.
• Improves cornering.
• Ideal for flat-track or ice racing. The front lowering kits are not recommended for large jumps.
Front Installed:
Front Installed & closeup
Rear Comparison:
Left bottom shows the stock rear set-up, compared to DuraBlue lowering turnbuckle on the bottom right.
My Impressions:
Pros:
6061 Machined Aluminum upper bar mount style, which gives you plenty of shock clearance from the front plastic.
Provide stability and control for high speed cornering on flat surfaces.
Solid construction, made of 6061 aluminum.
Locking nut in turnbuckle, to prevent linkage from coming loose during use.
Lowers and widens stance at the same time.
Cons:
Front lowering kits are NOT DESIGNED FOR LARGE JUMPS.
Bottom Line:
Lowering kits are the perfect answer to gaining more stability and control for high speed cornering on most flat racing surfaces such as ice racing, flat track ovals, TT or supermoto.
In quoting this statement above, this is an excellent way to lower your atv if you plan on using the lowering kit for this use as mentioned above, or if you are building a show vehicle.
I noticed our atv was lowered a good 2″ with the kit installed.
Note: Lowering kits are recommended for high speed cornering on most flat racing surfaces only.
So the bottom line for all you ice racers or flat trackers, this is the perfect way to lower that atv's center of gravity and get yourself around the track faster and safer. We have installed this DuraBlue ATV lowering kit to give us a lowered stance for show purposes only. Do to the nature of our driving styles we will not be operating our atv with the lift kit installed.