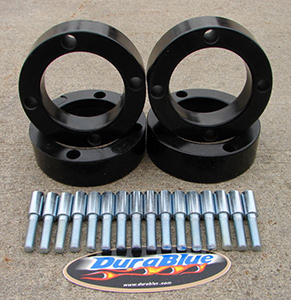 ATVPT-ATVProductTests Copyrights 2011
GRAPH-LITE EZ Fit Facts:
These spacers are an exclusive compound of urethane and titanium.
The mounting hardware attaches to the existing press-in studs, providing a well supported foundation for the spacer.
Available in 1.5″ and 2.5″ for most models, these spacers will provide both wheel clearance and a more stable ride.
NOTE: Graph-lite "EZ Fit" spacers do not require stud removal for installation. These must be used when access to the inside of the hub is limited.
EZ Wheel Spacers Features:
Increases wheel clearance.
Improves stability.
Light weight.
Exclusive urethane compound with titanium.
My Impressions:
Pros:
Easy way to get increased wheel clearance.
Light weight urethane compound with titanium construction.
Easy installation.
Bottom Line:
We needed an easy way to get some wheel clearance with our KYMCO UXV 500 project build, and the DuraBlue Graph-Lite EX Fit Wheel Spacers were exactly what we needed to accomplish this task.
It took all of twenty minutes to install these wheels spacers, and also to install the wheels & tires on our project side by side.
We could of went with aluminum wheel spacers, but I felt that the Urethane wheel spacers would give us better ride qualities on the UXV 500.
This is a very easy way to get wheel clearance without buying new wheels with a different offset.
So the bottom line is, if you need to get your wheels out there, give DuraBlue a look see when you are checking around. They have a lot of quality products from axles to wheel spacers, that will meet your needs & expectations.