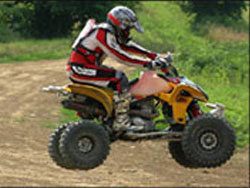 Recently, sponsored rider Chris Earlywine tested Durablue's X-33 for ATV Scene.com's Project XC450R. Here's what ATV Scene.com had to say regarding the Durablue X-33 axle:
To widen the rear of our machine Chris Earlywine insisted that we use a DuraBlue X-33 axle. While he allowed us to pick and choose components at random for his machine, this is one component that he insisted on. The DuraBlue X33 features a pin drive system instead of the standard splined axle and hub setup. After a while, the splines begin to crush allowing for imperfect fit between the axle and the hubs causing wobble. With the X-33 the hubs slide onto the end of the axle and are held in place by a pin that runs through the hub and the axle where they are bolted together. There are no splines to crush so the X-33 provides a wobble free operation for life.
Furthering the strength of this axle is the fact that it does not taper down where the hub attaches. Where the axle tapers down to the smallest diameter is where it is the weakest, thus that's where most axles bend. With its constant diameter, the X-33 has no inherently weak point. No it's not indestructible, but it is quite strong.