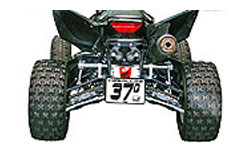 Honda Trx700xx Rear Anti-Sway Bar
Increases ATV stability and safety for everyday riding.
A must have for flat track racing.
Reduces front end wheel hopping on fast turns.
Stabilizes and reduces tipping action when cornering.
The Honda 700xx has an independent rear suspension (IRS). While this design has some advantages, it is not always the best for high performance usage. Sway becomes an issue. To counter this tendency, Honda supplies this bike with a very light duty anti-sway bar. The device is inadequate for most high performance purposes.
DuraBlue created a sway bar for the front which goes a long way toward balancing the bike and making it live up to its potential.
Recently, DuraBlue has been asked to create a multi-adjustable sway bar for the rear of the Honda trx700x bike as well.
We are proud to introduce our 20-1700hr anti-sway bar. It has all the features that have make the DuraBlue anti-sway bar famous. It also bolts on with ordinary hand tools.
The full adjust-ability will make your machine handle up to its potential.